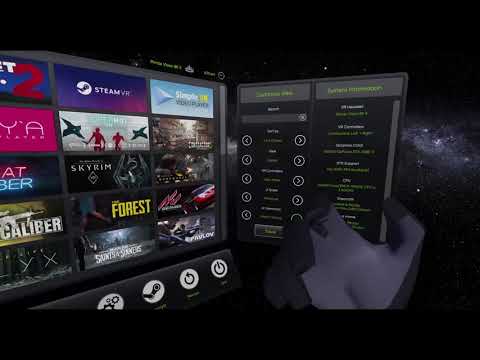 IMPORTANT NOTES:
After installing the new PiToolSetup_1.0.2.071, you NEED to replace the content of folder C:\Program Files\Pimax\PVRHome\ with the content of the folder \PVRHome_v0.30\ Included in this ZIP/RAR file!!!
Bundled with NEW VERSION PiToolSetup_1.0.2.071. The PiTool is REQUIRED to be installed. Download link below: (same link, new folder PVRHome_Beta_v0.30). Available in compressed RAR and ZIP file:
https://drive.google.com/drive/folders/1tgSASk1Wobnvls-kqGtDIcSdN1EZfuGy?usp=sharing
Beta v0.30
Release Notes:
BIG UPDATE! Hand-tracking added! (compatible with all Leap Motion devices) Check the non-public video in the forums for a full introduction (or directly with link: Pimax VR Experience Beta 0 30 - Hand Tracking Interaction Demo - YouTube ) Enable/Disable Hand Tracking at any time on the Right-side bar under "Quick Customize" options and change UI Interaction to "Hand Tracking". The Hand Tracking has 2 automatic modes: Touch Mode & Projective Pinch Mode. If further than 40cm (about one and a half feet) away from the UI, the Pinch Mode is activated where you pinch your index finger and thymb to click/drag and interact in general. While being 40cm or closer to the UI (preferably using UI Scale "Miniature") the Touch Mode is activated and allows you to swipe, drag and click directly on the UI menus, buttons and all existing elements in VR Experience. The Hand Tracking implementation took me weeks to work, and its still not perfect, but very very useful already now. I will add sensitivity-options to pinching, clicking etc to make it more customizable, as well as other colors of the pointers and other hand models.

BUG FIX: Fixed a bug from last v.0.29 where the Keyboard in Profiles->Create New Offline Profile didnt work with the input field (the input field was colliding with the Search-bar input field) and it resultet with all text being sent to the Search field instead. This is now fixed. The Keyboard in Profiles->Create New Offline also had an issue by not being able to input "Space" into the text field (profiles couldnt have any space in the name). This is also fixed now.

Minor UI interaction improvements and changes, along the way when building the hand-tracking interaction…
==============================
How to get started (IMPORTANT)
Install the included PiTool version (file PiToolSetup_1.0.2.071.exe)
Open PiTool, go to Settings → General and DISABLE/UNCHECK "Start Pimax VR Home"
Go to C:\Program Files\Pimax\PVRHome\ and remove all content inside the folder.
Copy all content from the \PVRHomev0.30\ folder provided in this RAR file, and paste it into C:\Program Files\Pimax\PVRHome\
In PiTool, go to Settings → General and ENABLE/CHECK "Start Pimax VR Home"
Pimax VR Experience should now start in the background and inside your Pimax VR headset.
==========================
Check the Unity log file:
The log is created every time you exit the application.
So to be able to read the log, exit Pimax VR Experience first, by:
opening PiTool, go to Settings → General and DISABLE/UNCHECK "Start Pimax VR Home"
or
Click on the Quit button (bottom bar) in the Pimax VR Experience
The log file is called:
Player.log
The previously created log is (previous instance of the application running):
Player-prev.log
===========================
Game Appdata files & config
The program appdata files, user settings file, favorites etc that are used by VR Experience are located in:
C:\Users*user*\AppData\LocalLow\Pimax\PVRHome\
User Settings profile:
C:\Users*user*\AppData\LocalLow\Pimax\PVRHome\userSettingsPVR.json
===========================
Other useful info
Game import-data profiles (SteamVR/VivePort/Revive) are located in:
C:\Users*user*\AppData\LocalLow\Pimax\PVRHome\GameImports\
AND:
Game import-data profiles (Oculus/Imported) are located in (temporary solution):
C:\Users*user*\AppData\Roaming\PiTool\manifest\
Game SETTINGS profiles (SteamVR/Oculus/VivePort/Imported) are located in:
C:\Users*user*\AppData\Roaming\PiTool\manifest\PiTool\
Favorites import-data profiles are located in:
C:\Users*user*\AppData\LocalLow\Pimax\PVRHome\Favorites\
SteamVR Optimization profiles for SteamVR/VivePort/Imported games are located in:
C:\Users*user*\AppData\LocalLow\Pimax\PVRHome\CustomSteamVRProfiles\
===========================
Thank you for helping out!
/ Martin, SweViver