Working on getting one into the studio so… stay tuned! [;]-)
Nice… Love how it is modular! []-)
I know the feeling…
Mine isn't "done" either as the armrests should have been a bit higher (hence I made the foam pieces thicker, but it still isn't quite enough I think), and angled slightly outwards.
So how do you like the Yaw in ED ?
Hopefully Feelthree delivers a functioning product then I can step my sim cockpit game substantially.
Im sure the 8kx will be the cure to ED.
its a very fun device for the price!
Can you describe it a bit more, how does it support your immersion, which kind of effect do you feel ? Do you feel acceleration, braking or is it primarily turning your orientation horizontally ?
Their Site (FeelThree . com) goes to a phising site… not a good sign.
Did they move and the domain is hijacked?
Although usually when anyone asks me what it is, I can never remember the brand name, and just say 'it's something like Harman Kardon'
Well, last KS update came on 30/3, and Mark Towner is actively tweeting (about general VR / developer stuff) so they still seem alive, not hiding or so. Of course this unfortunately is a high risk investment due to some factors, so I have to hope they will eventually manage to get something usable out of the gates…
Lots of good setups here of course, but that looks…amazing!
Well, to make all of us feel humble again about our cockpits, check this one out…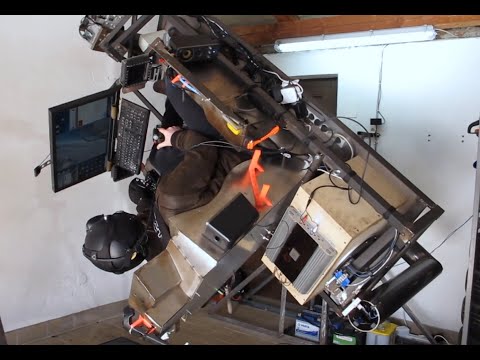 That's a bloke living near Munich… perhaps I will manage to visit him one day…
Yeah I have seen that one before awesome for flying!!
Yeah I did, whether something actually gets shipped though who knows. He still has regular KS updates regarding his progress so thats a good sign. I dont see any timetable though, maybe this year, maybe next. I just figure one day it might show up as a surprise on my doorstep lol
What really impressed me about the YawVR at CES was the range of pitch it could go through, as responsively and smoothly as it could go through it. That made it one of the most convincing full motion simulators yet.
The size and shape of the 'chair' it presented was less impressive, but still way better than I had expected would be possible.
I have been thinking that the principle might be cost effective to scale up to a large sphere (unlimited travel range), simpit size, with a single type of motor/thruster assembly used as many times as needed.
Which is exactly why I backed the FeelThree rig - it's the same principle, just in XXL
Of course they will have to manage to turn it around and produce & deliver the product. But the potential is there, the solution is simple & beautiful. At least from a general point of view, many of the technical details willl be anything but trivial, of course…
@zuiquan1: hello, fellow backer
Very nice!!! if i had the space i had backed that one…it looks amazing fun!
But i had to go smaller,thats why the yaw vr